SNOOP'S BLUEPRINT LAID THE FOUNDATION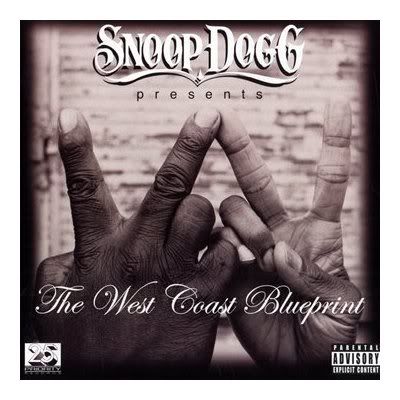 The West Coast Blueprint
is a compilation album from
Priority Records
, chronicling the general history of the storied hip-hop label.
Snoop Dogg
, recently signed to an executive position at the label, has personally compiled this set of songs featuring rap artists based out of California. The set culls its songs from the EMI umbrella of label imprints including
Priority
,
Virgin
, and
Capitol
.
Pros
Starting with the release of
Eazy-E
's
Eazy Duz-It
LP, Priority Records started a now-legendary relationship with hip-hop that has included artists such as
N.W.A.
,
Ice Cube
, the
Geto Boys
,
Master P
,
Mack 10
, and others. Presented in largely chronological order, listeners will hear
King Tee
's "Act a Fool", The
D.O.C.
's "No One Can Do it Better", the
Luniz
' "I Got Five on It", Mack 10 &
Dogg Pound
's "Nothin' but the Cavi Hit",
Kid Frost
's "La Raza", and more. Listeners will hear the evolution of California's hip-hop music, which brought expanded themes to the genre about contemporary gang problems, the drug war, police misconduct and more.
Cons
Depending on how old the listener is in hip-hop, they may well already own a 'best of' set (or several studio albums) based on the artists in this compilation, making this particular mixtape somewhat redundant unless there was a handful of songs that they managed to miss in the process (none of the selections here are particularly rare, being standard album cuts or single edits). The bonus song, Snoop's cover of Ice Cube's "Check Yo Self" is decent but unremarkable (compared to his total-makeover rendition of "La-Di-Da-Di" from 1993, which would have made a nice inclusion.)
Snoop cheats slightly on a few of the selections here: "No One Can Do it Better" was from the D.O.C.'s debut LP released on
Ruthless/Atlantic
(and not even a single), making it one of two songs on the set not from the EMI media catalog. The other is
Yo-Yo
's "You Can't Play with my Yo-Yo" (
East-West/Atlantic
), which to its credit includes iconic Priority artist Ice Cube but also serves as the only counterpoint to the casual sexism in many of the songs here: on that note, crate-diggers may remember the Oakland act
Conscious Daughters
(produced by the militant-minded
Paris
) who released
Ear to the Street
and
Gamers
on the Scarface/Priority imprint in the 90s. Why not include a song from them?
Other Issues:
Priority first dipped its toes into hip-hop via a string of themed compilation LPs in the 1980s called (without a touch of humility)
Rap's Greatest Hits
. In the years since Priority's 1990s heyday as a powerhouse independent label (and its subsequent absorption by EMI/Capitol), it has recurrently released anthologies based on various affiliated artists, leading to a lot of overlap.
Since this album ostensibly celebrates the Priority label's hand in the history of West Coast rap, it is understandable that going outside of the catalog for licensed songs would be kept to a minimum. Still, it comes across as glaring that no
Death Row
singles are included here: Priority served as distributor for an assortment of Death Row albums in the 90s.—but instead of Snoop's "What's My Name" or "Gin N Juice", listeners have to settle for the so-so "Trust Me" (featuring
Sylk E. Fine
and
Suga Free
) culled from Snoop's early 2000s stint on No Limit Records.
Regarding other worthy artists,
Ice-T
's Warner Bros. material may have been off-limits, but he recorded two lesser-known albums for Priority in the 90s—despite this, he gets squeezed out in favor of
Rappin' 4-Tay
. "You Gots to Chill" or "You're a Customer" by
EPMD
(whose first two albums fall under Priority's care) could have been included—despite being an East Coast act, the ominous synthesizer-bass riff in the songs were a kind of proto-G-funk offering that West Coast rappers expanded upon. The aforementioned Paris released
Guerrilla Funk
on Priority in 1994, whose political stances gave some thematic diversity to the morally gray gangsta-tales of Priority's roster.
In summary, this album may entertain some Generation-X'ers who initially had most of these songs on cassette tape but it's only a decent West Coast rap sampler for unfamiliar listeners. Seek out the original studio albums where possible: of course, this may likely be the point, as many of the LPs referenced here have been re-released with bonus material.
Fo' shizzle
.