TRIBUTE: MALCOLM MCLAREN,
1946 - 2010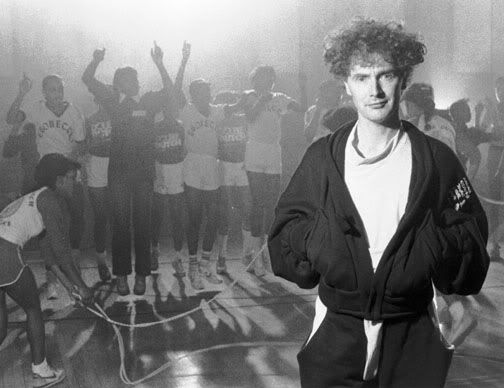 Malcolm McLaren, a British-born music industry impresario, has just died, as documented in the New York Times-
http://tinyurl.com/yhlyffh.
In mainstream pop culture, McLaren is most famous (or infamous?) for his managing and promotion of the pioneering
Sex Pistols
punk-rock band during their meteoric rise and fall during the 1970's. At the beginning of the
Reagan
era, however, he found himself dabbling in another underground music culture with roots in New York City--hip-hop.
The CD
Buffalo Gals: Back to Skool
compiles virtually all of the hip-hop related recordings that McClaren had a hand in producing, primarily with the
World Famous Supreme Team
: According to McLaren, they were a duo of part-time 3-card-Monte hustlers who caught his attention in Times Square, who happened to also host a community-access radio show in New York City where they showcased early hip-hop records, and eventually their collaborations with McLaren.
"Buffalo Girls", "She's Looking Like a Hobo", "Hey DJ" and several more good-times party songs all show up on the CD (largely culled from 12-inch recordings, as most of the material never surfaced on a proper album). Recorded before sampling technology had become common, the original songs feature mostly live instrumentation from session musicians, that still holds up to today's standards. Lyrically, the rhymes are much more simplistic compared to today, and may come across to contemporary listeners as quaint: "
Two buffalo gals going 'round the outside, 'round the outside, 'round the outside"
(as voiced by McLaren himself), but their work was also free of profanity and gangster themes. The Supreme Team never hit the mainstream, but was an important outfit to know in the pre-
Run-DMC
era of hip-hop. Also collected with the archival songs are new cover recordings, including legendary hip-hop musicians like
De La Soul
,
Rakim
and
KRS-One
.
Interspersed between all the songs are interviews with McLaren himself, where he candidly talks about his encounters with hip-hop's early figures and his attempts to help the music get a foothold in the industry; frequently being scolded by industry gatekeepers, A&R reps from pop, rock and even soul divisions of the establishment labels turned a blind eye, clearly not knowing what they were missing.
Between the old and new songs, this is the definitive compilation/tribute to an unlikely early champion of hip-hop music. May he rest in peace.
Buffalo Gals @ Amazon:
http://tinyurl.com/ykklu9z